My Pro-B+
200g
MY PRO-B+ is a tasty whole food probiotic spread packed with a powerhouse of nutrients created by Chef Cynthia Louise.

My Pro-B+ is created using unpasteurised fermented methods dating back to traditional times used hundreds and hundreds of years ago. My Pro-B+ is rich in living bacteria, enzymes and pre and probiotics that increases the health of your gut, improves your overall digestive system and boosts your immune system.
Antibacterial and antiviral spread that has a rich source of copper, manganese, vitamin K, zinc, various B vitamins including B12 for energy, iron, potassium, vitamin E, thiamine, riboflavin, niacin, selenium and folic acid.
Why You'll Love My Pro-B+
Improves health of your gut

Improves your overall digestive system

Packed with a powerhouse of nutrients

Boosts your immune system
Ingredients
Organic Black Sesame Seeds, Reduced Salt Tamari, Savoury Yeast, Organic Fermented Unpasturised Soya Bean Paste, Organic Apple Cider Vinegar with the Mother and of course #Love Vegan, Nut Free, GMO-Free, Contains Fermented Barley
Reviews
Customer Reviews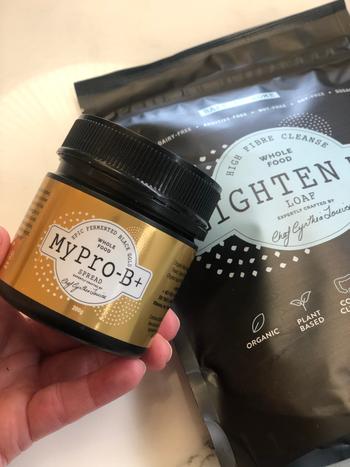 05/05/2021
I recommend this product
Delicious ......... and good for you!!
This is a product I love. Tasty and guilt free ❤️
Jodie M.

Australia
10/08/2020
Rebuild the Gut
Concentrated probiotic that tastes great Did an amazing job helping us recover from parasites also a necessity after antibiotics, chemo, anti-inflammatory You will see the improvement straight away
Coach C.

Australia
10/06/2020
Yuuuuuummmm
My mouth is watering ... this is a very bitey taste .. mourish and nourishing for your organs xx
Liz W.

Australia
10/06/2020
I love mine with avo on toast!!
I LOVE eating my my might as a replacement to the old vegemite with butter on toast!! Its DELICIOUS and a much healthier alternative to the chemical **** storm that is Vegemite!! #HighlyRecommend
Rachelle

Indonesia
10/06/2020
One tub is NOT ENOUGH! Gimme moooorrree!
Vegemite move on over the NEW KID is in town... and it is delicious and nourishes my gut from the inside out. With cucumber slices or just straight on some bread... this is the bomb! Only issue is.. when is the 1kg tub available... ha ha!
Hayley

Indonesia